VAAM KN95
A Premium Product From Premium Brand
ABOUT VAAM KN95
VAAM KN95 is a 5 layered Mask which is made from very premium materials with the help of Fully Automatic Imported Machines with a lots of research and technically approved materials.

We are maintaining a very high quality standard by continuously focusing on small details and choosing premium long lasting materials.

Our main aim is to help the customer to deliver best & premium quality Mask in very affordable price.
VAAM KN95 WITH RESPIRATOR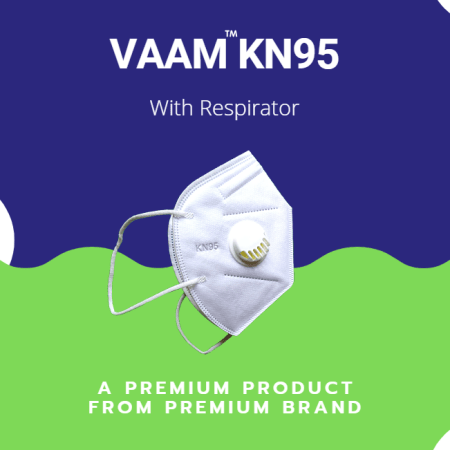 VAAM KN95 WITH RESPIRATOR 5 LAYER SPECIFICATIONS
| | |
| --- | --- |
| 1st Layer | - 50 GSM Spun Bound |
| 2nd Layer | - 80 GSM Hot Air Cotton |
| 3rd Layer | - 50 GSM Fibre Meltblown ≥ 95% |
| 4th Layer | - 25 GSM Meltblown Filter BFE ≥ 95% |
| 5th Layer | - 25 GSM Spunbound Pp |
VAAM KN95 WITHOUT RESPIRATOR
VAAM KN95 WITHOUT RESPIRATOR 5 LAYER SPECIFICATIONS
| | |
| --- | --- |
| 1st Layer | - 50 GSM Spun Bound |
| 2nd Layer | - 80 GSM Hot Air Cotton |
| 3rd Layer | - 50 GSM Fibre Meltblown ≥ 95% |
| 4th Layer | - 25 GSM Meltblown Filter BFE ≥ 95% |
| 5th Layer | - 25 GSM Spunbound Pp |
VAAM KN95 Packing